Shelbyville Central High School
Class of 1968
In Memory
Billy Baker VIEW PROFILE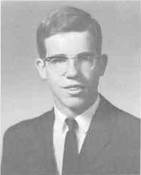 Billy Ray Baker
June 29, 2004
Billy Ray Baker, 53, of Lynchburg died Thursday at Lynchburg Nursing Center. Funeral services will be 5 p.m. Friday at Lynchburg Funeral Home with Chris Turner officiating. Burial will follow at Booneville Cemetery.
Born in Bedford County, he was the son of J.D. and Vergie Baker and husband of Rita Baker, all of Lynchburg. He was a logger.
Survivors in addition to his parents and wife include two sons, Jason Baker of San Diego, Calif. And Jamie Ray Baker of Lynchburg, a daughter, Christy Hawkins of Fayetteville; a brother, James Baker of Flat Creek; a sister, Linda Trull of Winchester, and one granddaughter.
Click here to see Billy's last Profile entry.